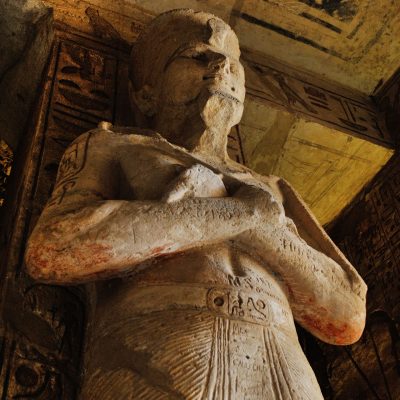 Hetepu (Peace & Blessings) Family.
As of March 2012, we have been in the Age of Aquarius, which abruptly began with a down pouring of information being made available all over the world due to the Internet. As a result, a lot of people are interested in Kemetic spirituality and want to know what does it mean to live Kemetically. The great thing about this particular time is that there are no limits to the information we can gain access to. For instance, historical records, reports and all sorts of documentation are just a few fingertips away as knowledge is made accessible to everyone.
However, the bad thing about this particular time is that there are no limits to the information we can gain access to. With all of these historical records, reports and all sorts of documentation just being a few fingertips away, there is no wisdom to assist in interpreting the new information.
What a lot of people do not understand is that we have a Ba (Superconscious), Ab (Conscious/Soul) and a sahu (subconscious). And, that most of our problems in life are due to the subconscious or sahu part of our being indiscriminately recording everything that we experience. This means that if you hear something or read something without having any wisdom about the subject, your sahu will automatically accept the information as absolute truth.
For the record, the reason the planet is in peril today is that Judaism, Christianity, and Islam have all been interpreted by individuals who had access to the knowledge but no wisdom. Consequently, metaphorical stories and parables are interpreted literally. For instance, from an alchemic, esoteric and metaphysical perspective, God created Adam and Eve in Its image because God being masculine and feminine really loved Their image and wanted to ensure that Man and Woman had all of its power. So, Man was created to be the Light and Woman was created to be the Receptacle of the Light. As above, the masculine energy is the Sun and feminine energy is the Moon. So below, the masculine is fire, positive and light, while the feminine is water, negative and dark. All the while the all-knowing God allows the serpent to exchange the power between the two immortal beings.
It is the lack of wisdom that inspired fundamentalists to let the sahu part of their being to see the serpent as the devil who tempts Eve to seduce Adam, thereby bringing the downfall of humanity. It is this same lack of cognizance that makes these individuals see masculine energy as being strong and good and feminine energy as weak and evil. Thus, justifying the oppression, suppression, and persecution of women, and all religious and spiritual traditions invested in the mysteries of the divine feminine or lunar cults (e.g. earth-based religions, spiritualism practice, etc.).
Family. Some people in our community (Hoteppers) claim to be versed in Kemetic spiritual practices because they have read some books on Kemetic history, metaphysics, etc., and it had a strong positive impact on them. For this reason I am glad that it helped them. Please understand that adorning yourself from head to toe with Egyptian symbols and having an extensive library full of Kemetic books is not knowledge and does not mean they are versed in Kemetic spirituality. This simply means that you are informed and aware of other authors' (typically biased western trained archeologists, historians, philosophers, and fanatics) beliefs, ideas and theories. But if you have no wisdom because you are not applying any of the information that you receive to see if it is beneficial or not. Then you are doing the same disservice as religious fundamentalists have and continue to do by simply spouting off information to make yourself appear to be "deep". This is just a few steps away from beating people over the head as the fanatics have done with the Bible and Koran. If you have to argue with another to make them see your point of view, then you are trying to convert them and that is pure evil. Thus, indicating that you are following in the footsteps of Set and not Osar (Osiris).
Anyone who practices Kemetic spirituality will tell you that you do not convert to Kemetic spirituality based upon the acceptance of certain beliefs and theories. This is because we are not trying to save people's souls from going to hell. You convert or rather you are initiated into Kemetic spirituality through the transformation of your mind. In other words, you are "saved" because you learn how to "save" yourself from certain dilemmas through divination, meditation, prayer, magick, ritual work, etc.
The information we receive during this age is supposed to be life-changing. If you have a room full of books but you and your family are not spiritually and physically abundant. Then, you are not taking advantage of this Age appropriately. If you are engrossed in the current affairs, social affairs, and do not see these all as distractions to discourage you from coming into your GOD or GODDESS-NESS. Then you are not living Kemetically.
Please understand that I am not by any means stating that these things are not important. What I am saying is that if you claim to practice Kemetic spirituality then we do these things differently than the norm, like receive counsel through divination on major issues. We discuss matters with our ancestors and spirit guides to determine if someone or something is beneficial to our family or not. We perform magick in every area of our life because we understand that as Children of God that it is our right to do so.
If you are going to live Kemetically. Understand that all books are guides, which are instruments of Npu meaning they are simply meant to get you in the door alchemical, esoteric and metaphysical door. They open the door or present to you another world, but to live Kemetically you got to put down the book and work 'dem Spirits.
Hetepu.
Sign-up and get the free report: What Does It Mean to Be Conscious?