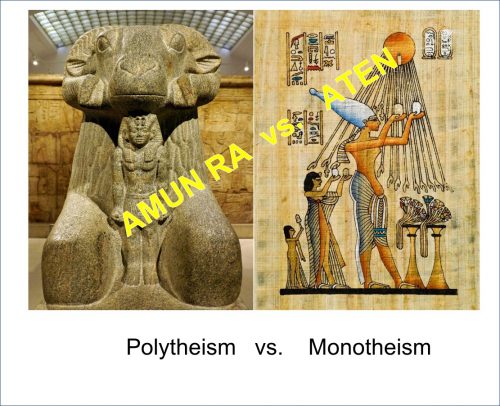 Hetepu (Peace & Blessings) Family.
If you read and study the Kemetic history, eventually you will come across the historical figure known in Kemetic history as Akhenaten, the heretic Kemetic king. Who is Akhenaten and why out of all of the Kemetic kings and queens, he is one of the most celebrated and talked about by western historians?
Well, Akhenaten was born Amenhetep IV, the younger son of Amenhotep III and Chief Queen Tiye.   Amenhetep IV's older brother Thutmose was supposed to succeed his father but he died at a young age so, Amenhetep IV became the next ruler of Kemet in the 18th Dynasty when his father around 1336 BC.  
Amenhetep IV is famous for a few reasons. First, he is the husband of the controversial queen Neferneferuaten better known as Nefertiti and second, the father of the boy king Tutankhaten. But, he is celebrated and paraded around by historians and theologians worldwide because he is recorded as being the first ruler to abandon his "polytheistic" religion and create a "monotheistic" religion known as the worship of Aten.  To publicly acknowledge his faith to Aten, Amenhetep IV changed his name to Akhenaten and made the Aten religion the state religion of Kemet.  After Akhenaten's 17 years of rule, the Kemetic priesthood restored the Amun Ra religion, and had Akhenaten's son, Tutankhaten succeeded him but signaling the return to the Amun Ra religion by changing his name to Tutankhamen.
Now, most archeologists, historians, and theologians will tell you that the reason the Kemetic people rejected Atenism and returned to the Amun Ra religion is that they were so accustomed to their polytheistic religion.  In fact, many scholars were so quick to ridicule the followers of Amun Ra in favor of Akhenaten's Aten religion that some scholars like the famed psychologist Sigmund Freud, have tried to link the Aten religion to the Abrahamic religion believing that Moses a former Atenist follower.
Interestingly, what most archeologists, historians, and theologians fail to mention is that during Akhenaten's rule he destroyed temples that were dedicated to the Amun Ra religion.  Not only that, but Akhenaten was also the first ruler to profess his divinity by claiming that he was the Son of Aten and encouraging people to only worship him and Neferneferuaten Nefertiti. But, archeologists, historians, and theologians praise Akhenaten for some great achievement. To understand why the Kemetic priesthood quickly moved to get rid of Akhenaten and his Aten religion, we have to truly understand what is idol worshipping.  
Idol worshipping is defined as worshipping graven images, but what is a graven image? A graven image is defined as any carved object or any object that is used to represent God.  The term "Aten" is a Kemetic word for the "Sun," which means that technically speaking Akhenaten forced the people of Kemet to worship a false god; first the Sun, and later him and his wife.
This means that the Kemetic priesthood recognized that the Aten religion was idol worshipping and one of the reasons they moved to get rid of it was because it is an egotistical creation that promotes nepotism and religious violence. In all so-called monotheistic religions, there is always someone or some group that is "chosen."  In the case of Atenism, it was Akhenaten and Neferneferuaten Nefertiti.  In Judaism, it is the Children of Israel.  In Christianity (depending on who you talk to) it is the Jewish people, the 144,000, the Catholics, the Baptists, or only the C.O.G.I.C., etc. In Islam, the "chosen" people are the ones who chose to obey god, which is generally interpreted to mean only Muslims.
What happens to the ones, the people or the group that is not "chosen"?  Persecution, slavery, accused of being "witches", every other atrocity that has been perpetrated in the so-called name of god by monotheistic religions.
The advantage of the Amun Ra view of God was that it never had religious skepticism, cynicism or religious violence due to religious schisms like the ones that exist in Judaism, Christianity and Islam because the Amun Ra religion was based upon the belief that the Supreme Being is One who becomes many.  This means we are all "chosen" because the Divine exists within us all. 
You see, in the Kemetic Story of Ra and Oset (Isis), Oset wanted to do the same things that Ra could do so and concluded that in order to be like Ra, she needed Ra's real name.  So, she devised a plan where Ra would reveal his name by creating a poisonous serpent that would bite Ra when he passed by it.  As the Story goes, as planned Ra passed by the serpent and was bitten and tried to heal himself but was unable to do so. As a result, the dying Ra called everyone but no one knew how to heal him except Oset who appeared and told him that to heal him she needed his true name. Ra refused to share it with her but the agony was so great that he eventually conceded by passing his name to Oset in secret. (For a full version of the Story click here.)
The Story ends under the allusion that Ra never revealed to Oset his name.  However, the ending of the story is a metaphor referring to the metaphysical concept about Amun Ra, which means amun "the hidden" and ra "divine power."  Thus indicating that the immortal power of God is within. 
It should be noted that this was how the Kemetic sages explained why we must suffer, experience hardship and how we got a soul. This ancient Kemetic story which was written thousands of years ago was adopted, modified and expressed in the Kabbalistic as Ra the primordial Light and Oset as the primordial Vessel who receives the Light, which indicates many Kabbalistic writers were simply trying to distance themselves from their Kemetic background.
Therefore according to Kemetic belief, human beings got a soul because Oset no longer wanted to receive unearned benefits from Ra. In other words, she wanted to become a God, like Ra, which means we have to work for everything that we want because if we do not earn what we want. We will not appreciate it.
This was birthed into Hru (Horus), which means that the Divine is closer to us than what we think. We don't have to be indoctrinated or initiated so that we meet the Divine. We do not need intermediaries like preachers to meet the Divine.  We are all chosne because we are all the Children of Hru born with an immortal soul that gives us freedom of will.  This means the Divine is within all of us.  Understand, every time we struggle to do what is right versus what is easy is when we meet the Divine.  Every time we have a problem it is an opportunity for us to go within and use our Divine Power to change reality.  So the reason the Kemetic priesthood restored the Amun Ra religion was to remind the people we meet the Divine every time we connect with our Higher Self or Osar (Osiris). We become like the Divine whenever we identify with our Higher Self.
Hetepu