There's a lot of talk about being "conscious/woke" but what I have found is that there 3 points about "consciousness (woke)."  That is missed because a lot of people really do not understand what it really means to be conscious.  So here is my two cents based upon my experience of walking this path: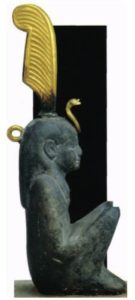 The First Point About Consciousness that is Missed
The first point out of the 3 points about "consciousness (woke)" that is missed is that many do not understand that consciousness means being in alignment with the Universe/Spirits.  Another word for alignment is a balance, which is symbolized in the Kemetic tradition by the guardian spirit Maat who balances the feather of truth on her head.
When you are in alignment with the Universe/Spirits, things flow to you almost effortlessly.
Warning:
This does not mean that there is no room for error or for things to go wrong.  This also does not mean you do not have to do any work to get what you want.  It simply means that you put a request out into the ether and the Universe/Spirits heard it and are fulfilling your request.
The Second Point about Consciousness that is Missed
The second point out of the 3 points about "consciousness (woke)" that is missed is being conscious means being aware that the Universe/Spirits do not function or operate according to human time.  Time is a human concept that was created to help us put things in order, but the Universe/Spirits do not function or operate according to our time.  The Universe/Spirits operate according to universal cycles of nature.  As it is stated in Ecclesiastes 3, "To everything, there is a season and a time to every purpose under the heavens."
Therefore, being "conscious (woke)" also means understanding that when you put forth a request and it does not manifest yet. It might be because what you are asking for is not in "season."   I have heard it put another way, that you ordered something off the Universal menu but presently they are out of stock.
This is one of those points that many of us struggle with (myself included) because we are bombarded with ideas and notions in western culture.  That when we want something, we should have anything and everything we want right now!  We need to remind ourselves that there is a time and place for everything., which is one of the reasons I use the Maa Aankh (left).  The interesting thing is that technology makes it more difficult for us to remember that there is a season for everything.
For instance, because of technology, we find summer fruits like cantaloupe and watermelons in the grocery stores during winter months. Or, we may be tempted to consume a lot of winter warming foods like nuts and berries during the summer.
If we remember that everything has its' season we will see that reason animals like squirrels stock up on nuts and why nuts are in abundance during the winter months is because it is their season.  Winter corresponds to the midnight, cooling and rebirthing nature of the Amun Ra moment.
The same goes for melons being in abundance during the summer months, which are used to help cool the body.  Summer corresponds to the midday, lively (active) and fiery nature of the Ra moment (see What is Kamta?).
So, if you asked for something and it has not manifested yet, remember that it might not be in season or time.  Simply keep your faith and keep your request on your heart.
Khepera (in KiKongo Kala), which symbolizes Sunrise,  Birth, East, Spring, Children, the color black, etc.
Ra (in KiKongo TuKula), which symbolizes Midday Sun, Life, South, Summer, Adolescence and Adults, vitality, the color red, etc.
Ra Atum (in KiKongo Luvemba), which symbolizes Sunset, Death, West, Fall, Elders, the color white, etc.  
Amun Ra (in KiKongo Musoni), which symbolizes Midnight (when the sun is believed to be on the other side), North, Winter, Ancestors/Spirit Guides, the color yellow, etc.  
The Third Point About Consciousness that is Missed
The third point out of the 3 points about "consciousness (woke)" that is missed is a real big one, and it involves trusting your intuition. 
When you are conscious things (ideas, hunches, etc.)  come to you, so you have to learn to trust your intuition. The biggest obstacle to your prayers being answered and/or your magick manifesting is yourself – in particular, your lower self. This is because this western society that we live has taught us since birth to trust only in what we can assess (measure) with our five physical senses. So, for a lot of us, our intuitive faculty has atrophied because we stopped using it as soon as we enter grade school and was told to stop daydreaming so much. Consequently, many of us will receive an intuitive idea but will not act on it because we want physical proof.
This, unfortunately, is the reason a lot of people who allege to be "woke" are very informed when it comes to history, social issues, politics, current affairs, etc. but lack spiritual insight and direction because they have no spiritual practice. These people are known as great "intellectual masturbators" because they literally "get off" by spouting a bunch of information and humiliating others who have not read and/or cannot debate as well as they can. If these individuals would follow their intuition and listen to the Universe/Spirits, they would know that everyone is not at the same level spiritually, so it is foolish to debate with others based upon information because it is simply a matter of opinion.  In other words, what most of these "hotep" debaters are arguing about is a subjective truth, which is based upon personal experience.   As the saying goes, "all roads lead to heaven," which means regardless of what path a person takes, they will eventually find Truth.
Trusting your intuition means just that "trusting your intuition."  Some of us have a difficult time trying to distinguish if the voices we hear our own head, our ancestors and spirit guides, etc.  (See: How to Distinguish When Your Guardian Spirits Are Speaking) Again, I know it is a challenge because we have also been influenced by the horror film industry and/or the horrors of "blind faith (aka just put your trust in Jesus and everything will be alright)" in the Church. The good thing is that the Universe/Spirits never give intuitive information without first giving you a sign. This is one of the reasons why the ancestors are so important to truly conscious people.
Our aakhu (ancestors and spirit guides) were once human beings so they know how hard it is to put your faith in something without having a lot of reasons to do so. So, understand your ancestors and spirit guides will give you signs.  (see Honoring the Ancestors the Kemetic Shaman Way).
You will not know "the science" of why something works because it is based upon esoteric sciences (see The Kamta Primer). For instance, no one really knows what the ancestors and spirit guides do with the food, drink, spirit money and other offerings that are offered to them because they have no physical body, so technically they have no use for these things.
We are told that they consume the essence of these offerings, which is sufficient for them but if you are a rational mind person, part of you still wants to know what the hell does that mean "consume the essence." This is when you must stop yourself because you are about to go down another intellectual rollercoaster that is going to derail your prayer/magick. For the record, that part of your being that is intentionally and unintentionally sabotaging your efforts is your Set (lower self).
Simply trust your intuition and listen to your aakhu. Know that the Universe/Spirits would not tell you to do something that is going to harm yourself or others. Remember, the Universe/Spirits know you inside and out, so they know what you are ready to accept based upon your beliefs and will never force you to do anything. It is always about free will.
When you keep these three points in mind and begin to exercise your spirituality. This is when you really begin to become conscious and you cease worrying as much.  You know that everything, for the most part, is going to work out for the best but remember. You still have to do your part and fulfill your destiny (see The Kamta Primer) but, you have ancestors and spirit guides who walk with you so that you are not alone (see Honoring the Ancestors the Kemetic Shaman Way).
Hetepu.
Sign-up and get the free report: What Does It Mean to Be Conscious?